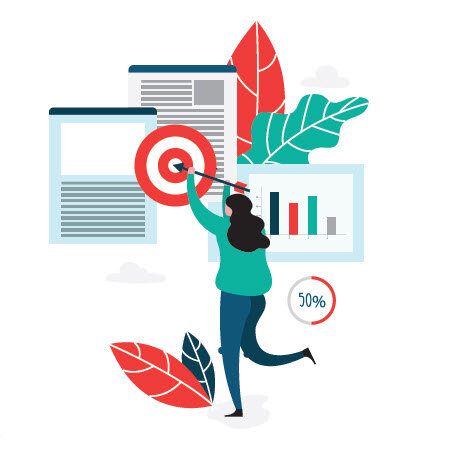 Analysis or data paralysis
KPI setting is not the same as objective setting and nor is it about baffling the Board with so much data that they just nod and let you go! This is an opportunity to set a handful of meaningful metrics that will motivate and challenge your team, whilst demonstrating success (or otherwise) and providing focus.
KPIs should be closely linked to objectives – as an example, the Manager of a football team may challenge the team to get 10 shots on target each match, with a plan to scoring 3 goals. If the team doesn't get any shots on target, they aren't going to score any goals. The shots on target are the KPIs.
Think through your business objectives and choose 5 or 6 KPIs that will provide the focus for activity within your team.
These are just examples, but you will have set these earlier in your planning process
Membership numbers

Retention rates

Acquisition rates

Membership growth

Revenue

Profitability

Premises Visits
KPIs
Challenge yourself to choose no more than 6 metrics that, if achieved, will give a greater chance of success. Don't choose vanity metrics that might look good in a Board pack but don't correlate to results
Member renewals

Member engagement

Member referrals received

Specific enquiries (not loose leads for no particular product)

Money spent

Content downloads

NPS scores

Web site dwell time and page views (be careful that you use these in a meaningful way)

In-bound calls received

Online conversion rates

Events attended

New connections made

Inbound requests to work or volunteer for your organisation
Again, this is just a selection to consider and they need to be examined alongside your own objectives and the correlation assessed. For instance, in some organisations, money spent may be an excellent indicator that a member is about to renew due to being highly engaged, but for others it may mean something completely different. The only way to know is to examine trend data and make an informed choice as to the key metrics that your team should focus on. A strong understanding of these will then allow your team to decide which activities to pursue to affect these measures.
HOW CAN WE HELP?
We can help inspire you to find the right answers.
We can share experiences from other organisations.
We can help you pull together a realistic working plan.

CONTACT US
Arrange a free introductory session and then see how you feel.